Dumond Peel Away 1 Lead Stripper w/paper, 5 Gal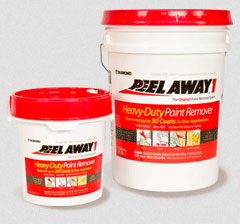 Due to DOT restrictions, this product cannot be shipped via UPS. It must go common carrier. Please Call for a quote! 1-800-227-8479.
The PEEL AWAY® I System is an environmentally safe method of removing up to Thirty two (32) layers of paint in a single application from most surfaces and there are NO FUMES AND NO FLAMMABLE SOLVENTS. The System includes a paste that is spread or sprayed over the surface to be stripped and then covered with a fibrous laminated paper with controls evaporation, and is left on until all of the paint is dissolved for easy collection of the waste. The laminated paper is then removed with the bulk of the paste and paint adhering to it and the stripped surface is washed clean and neutralized. PEEL AWAY® I works best when oil/lead based paint is the prime coating on the surface. Coverage is 15-20 sq. feet per gallon
PEEL AWAY® I is especially suited for the removal of lead based paint and restoration of old historical buildings.
THREE MAJOR ADVANTAGES FOR USING PEEL AWAY® I FOR LEAD PAINT REMOVAL ARE:
1) By applying the PEEL AWAY® paper over the paste, the paint is kept in a wet or damp state preventing hazardous lead particles from getting into the air or onto the surrounding area.
2) When the stripping job is finished and the PEEL AWAY® paper is removed, the bulk of the paste and lead paint comes off intact onto the PEEL AWAY® paper for easy collection of the waste and proper disposal.
3) The PEEL AWAY® I product contains lime which starts to stabilize the lead paint being removed and there is a good chance that the solid waste (PEEL AWAY® and paint) will be under 5ppm leachable lead taking it out of a hazardous category in terms of disposal. A TCLP test is done to make this determination.
VIEW IN OUR STORE