Fiberlock LBC Lead Barrier Compound 5801 | Lead Paint Encapsulation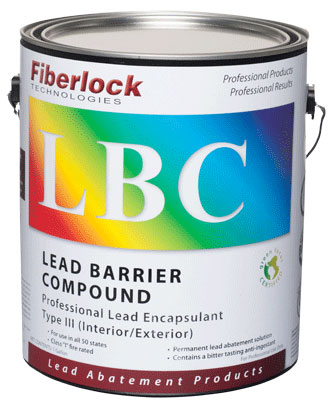 FEATURES:
• Fiberlock LBC Lead Barrier Compound is a lead paint encapsulant that is high-solids, elastomeric-thermoplastic, water-based copolymer that meets or exceeds all projected federal, state and local standards for encapsulating. Blended specifically to form a durable and flexible encapsulant barrier between lead paint and the environment. LBC has been independently tested to the ASTM E-1795 requirements for Category III (Type III- Interior/Exterior) encapsulants. E-1795 is the principle performance standard required, adopted and/or incorporated by reference into lead paint abatement rules and regulations at the federal, state and local levels. Fiberlock Lead Barrier Compound has been certified by Massachusetts (No. DL-12362), authorized by the states of Connecticut, Ohio, New York, Maryland, Minnesota, and Colorado. LBC is accepted for use in all 50 states. Fiberlock Lead Barrier Compound has also been classified by Underwriters Laboratories (UL®). LBC is environmentally friendly and complies with all federal and state VOC requirements.
• LBC contains Bitrex®, a bitter tasting, non toxic, anti-ingestant to discourage oral contact with lead paint. The required minimum 7 mil dry film thickness of Fiberlock Lead Barrier Compound offers unparalleled interior and exterior coverage and economics. In addition, the lower film thickness reduces stress on the existing paint system and maintains architectural detail.
• LBC can be successfully applied to the proper thickness in one application with most major brands or airless spray equipment. This lead paint encapsulant can also be applied by brush or roller. LBC Type III can be used for application with surface temperatures as low as 38°F.
• Percent Solids: 62 ±2% by weight Volatile Principally water
• Average Particle Size: 0.2 microns
• Weight: at 78°F 11.5 ±0.3 lbs/gal
• Viscosity: at 78°F 105 - 130 KU
• Flash Point: Noncombustible (Water-based)
• Minimum Shelf Life: 36 months at 78°F
• Finish: Eggshell 60° spec. gloss: 4 ±1 85° spec. gloss: 3 ±1
• Drying time: at 78°F To touch: 1-2 hours Additional coats/topcoat: 8-16 hours Full cure: 30 days
VIEW IN OUR STORE